Night Auditor
Posted January 27, 2023
The Night Auditor oversees the nightly operations of the hotel and resort as well as the guest service staff, acts as a contact person for guests and other hotel Departments during the night shift.  Turns over the day and processes all credit cards as well sends out all of the appropriate reports on a nightly bases.
Work Requirements:
Maintain a great attitude at all times
Actively practice's and utilizes H.E.A.R.T steps during guest interactions.
Orchestrates and expedites the registration and checkout process at the front desk.
Provides excellent guest service and acts as the Manager on Duty in the absence of supervisors & managers.
Accurately inputs Nightly Income Journal
Reconcile and post daily revenue activity.
Settle Credit Card Batches utilizing Dollars on the Net
Strong technical skills with Opera PMS/Visual Matrix
Make hotel and other reservations by entering or telephoning requirements, checking availability, confirming requirements.
Contributes to team effort by accomplishing projects/tasks as needed on a nightly basis. 
Oversees nightly bucket check and issue coach and counseling or warning for repeat issues.
Ensure operating systems balance each night.
Research any balances in accounts nightly
Communicate to management and Front Desk Supervision of overnight details.
Establishes credit by verifying credit cards or obtaining cash. 
Add on and maintain a cash balance of $500 for each cash drawer.
Complete nightly audit checklist and cash drawer balance report
Inspect vacant rooms for quality control.
Maintain records by entering room and guest account date.
Routinely check within with security guard to make sure the property is secure.
Check all charges and make sure that all rates are correct.
Post No Show's and closes out open folios in the morning.
Complete nightly audit of the Disney tickets binder.
Assist night auditor with Daily Flash report.
Complete daily guest service/front desk break log and scan to shared drive.
Communicating with team members both verbally and in writing to answer questions and provide clear direction in advising and instructing staff in details of work.
Effectively deal with internal and external guests, some of whom will require levels of patience, tact and diplomacy to defuse anger, collect actual information and resolve conflict.
Organizing, conducting and/or attending meetings.
Ability to communicate verbally and in writing in English and prepare complex reports, compiling and preparing financial reports.
Ensuring procedures are followed when dealing with all safety and security issues are concerned.
Perform basic functions involving payroll such as payroll edits, meal break log and scheduling.
Ability to stand on feet for up to 8 hours at a time
Physical Requirements:
Must be able to lift up to 10 pounds occasionally and/or negligible amounts weight frequently or constantly: to lift, carry, push, pull or otherwise move objects.
Ability to walk/stand for extended periods of time.  Flexible and long hours sometimes required.
EOE/M/F/D/V/SO
We participate in E-Verify
The Anaheim Hotel
306 Room Hotel
OUR HOTEL
The Anaheim Hotel is a three-diamond hotel located across the street from the exciting Disneyland® Resort and near the Anaheim Convention Center.
On nine acres of landscaped gardens, The Anaheim Hotel offers 306 rooms, an Olympic-sized pool and Jacuzzi, 6,800 square feet of flexible meeting space with banquet capabilities, on-site restaurant The Pizza Press, and lobby bar.  The Anaheim Hotel is dedicated to providing superior service in a welcoming environment with a variety of amenities for your convenience and enjoyment. It's more than just location; it's a great value.
The hotel is rooted in its mid-century modern heritage with modern sensibilities.  Stay in spacious rooms  designed for both comfort and convenience, with crisp white bedding.  All of our inviting rooms overlook the grounds, many of which have a patio or balcony.  Our two story buildings are located on an expansive nine acres of landscaped gardens and walkways.  Enjoy ample and easy parking all around the hotel.  Soak up the Southern California sun and relax by our Olympic size outdoor heated pool and spa.
Hosting an event?  Take advantage of over 6,800 square feet of flexible meeting space to make your meeting, conference, or event both convenient and successful. Whether you're planning a small meeting or large conference, our on-site catering staff can create impressive event menus to refresh your guests.
---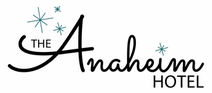 1700 S. Harbor Boulevard
Anaheim, CA 92802