Recamarera - Housekeeping
Posted January 27, 2023
Como recamarera, ayudara a limpiar las habitaciones y suites de manera eficiente y completa para garantizar la satisfaccion de los huespedes. 
Responsabilidades:
Limpiar y dar servicio a las habitaciones o áreas asignadas de acuerdo con los estándares y procedimientos establecidos, lo que incluye hacer las camas, quitar el polvo, pasar la aspiradora, limpiar y desinfectar los baños, sacar la basura, etc. Puede incluir la limpieza del área de la cocina, el refrigerador de la habitación, la cafetera, las tazas, los vasos, los cubiertos, etc
Notificar al supervisor cuando se complete el servicio para que las habitaciones puedan estar disponsibles a los huespedes. Informe cualquier habitación que no pueda ser atendida al supervisor de acuerdo con los procedimientos establecidos.
Informar al supervisor sobre las reparaciones necesarias o las condiciones inseguras.
Responder a las quejas de los huéspedes, solicitudes especiales y garantizar que se tomen medidas correctivas para lograr la satisfacción de los huéspedes.
Supervise y controle los suministros y las comodidades, y minimice el desperdicio en todas las áreas de limpieza.
Informe, entregue y/o registre todos los artículos perdidos y encontrados de acuerdo con los procedimientos establecidos.
Promover el trabajo en equipo y la calidad del servicio a través de la comunicación y coordinación diaria con otros departamentos.
Puede ayudar regularmente con proyectos de limpieza profunda o con otras tareas asignadas.
Puede tener deberes de cobertura.
Participe en nuestros programas y procedimientos de reciclaje.
Requisitos:
Habilidades básicas de lectura, escritura y matemáticas. 
Se prefiere algo de experiencia en limpieza y habilidad para hablar inglés.
 Este trabajo requiere capacidad para realizar lo siguiente:

Transportar o levantar artículos que pesen hasta 50 libras y empujar/jalar hasta aproximadamente 200 libras
Estar de pie y moverse con frecuencia por las instalaciones.
Manejar con frecuencia objetos y equipos para mantener las instalaciones.
Inclinarse, agacharse y arrodillarse con frecuencia.
EOE/M/F/D/V/SO
We participate in E-Verify
The Anaheim Hotel
306 Room Hotel
OUR HOTEL
The Anaheim Hotel is a three-diamond hotel located across the street from the exciting Disneyland® Resort and near the Anaheim Convention Center.
On nine acres of landscaped gardens, The Anaheim Hotel offers 306 rooms, an Olympic-sized pool and Jacuzzi, 6,800 square feet of flexible meeting space with banquet capabilities, on-site restaurant The Pizza Press, and lobby bar.  The Anaheim Hotel is dedicated to providing superior service in a welcoming environment with a variety of amenities for your convenience and enjoyment. It's more than just location; it's a great value.
The hotel is rooted in its mid-century modern heritage with modern sensibilities.  Stay in spacious rooms  designed for both comfort and convenience, with crisp white bedding.  All of our inviting rooms overlook the grounds, many of which have a patio or balcony.  Our two story buildings are located on an expansive nine acres of landscaped gardens and walkways.  Enjoy ample and easy parking all around the hotel.  Soak up the Southern California sun and relax by our Olympic size outdoor heated pool and spa.
Hosting an event?  Take advantage of over 6,800 square feet of flexible meeting space to make your meeting, conference, or event both convenient and successful. Whether you're planning a small meeting or large conference, our on-site catering staff can create impressive event menus to refresh your guests.
---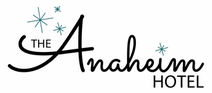 1700 S. Harbor Boulevard
Anaheim, CA 92802